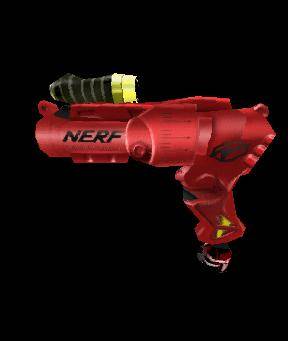 General Info
Edit
The Secret Shot, also known as the Secret Shot II, is a pistol-type gun with infinite ammo and is the default weapon for most of Nerf ArenaBlast's Game Types. It is red with black accents and is based on the real NERF blaster of the same name.
Primary Fire
Edit
Description: One luminescent yellow dart.
Damage: 10
Alternate Fire
Edit
Description: One luminescent orange dart at a slightly slower pace than primary fire.
Damage: 15
Known Bugs
Edit
Ammo Counter Bug
Edit
When using the SecretShot in game, the HUD will display infinite ammo remaining at all times. However, the graphic meter will show the ammo drain to no less than 10 if using primary fire, and no less than 5 if using alternate fire. This may not be as much a bug as a clever script work-around with overlooked consequences.
Ad blocker interference detected!
Wikia is a free-to-use site that makes money from advertising. We have a modified experience for viewers using ad blockers

Wikia is not accessible if you've made further modifications. Remove the custom ad blocker rule(s) and the page will load as expected.